Hello everyone, and welcome back to another edition of "Oooh, I Want to Read This".  Does anyone stop to think, "Man, there are so many freaking books out there?" 'Cause I do that on a constant basis…usually everytime I step into a bookstore or library.  And there is just not nearly enough time in the day for them to be read on top of doing more…important things like eating, bathing, or sleeping (and yes, there are some of us, myself included, than can multi-task and read while at least either eating or bathing.  Sleeping, on the other hand, is beneficial for the focus and attention span of readers).  Anyway, enough rambling, because we all know you are here for the books.
I've read several novels from the son of Stephen King, but I have not read this collection of short stories yet. Which I really need to remedy at some point.  I love Hill's work.  Speaking of…
The other body of work that I haven't read from Mr. Hill.  The premise of the book…madly intriguing! People developing scales before bursting into flames? People dedicating themselves to destroying those people? A man called "The Fireman" that defends those from those who want to destroy them? So much more plot that I don't want to give away all the synopsis here? I WANT!
I read the first book, and I enjoyed it.  It was an interesting read, and I wanted to get around to reading this one.  In fact, for a while, I had made myself a list of what books I wanted to read, and the order I was going to read them.  But I lost the list, and life happened.  But, I still want to read this book.  I WANT to know what happens next!
So, one of my goals in the next couple of years is to re-read all the works of Stephen King.  Now, my collection is pretty close to complete (at this moment, I'm missing the entire Dark Tower, The Cycle of the Werewolf, and The Eyes of the Dragon).  And what better way to start out with the novel that almost wasn't, Carrie.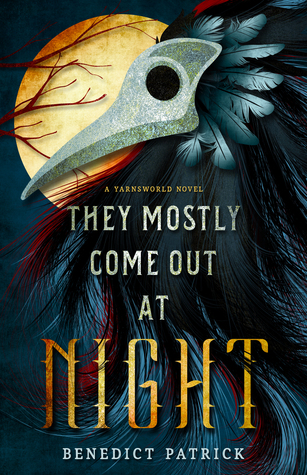 One of two reads on this list that were recommended to me by Beth, this has a very interesting premise.  Now, I've read nothing from this author, nor have I heard anything about Yarnsworld.  But, I hope that this is easy to get lost in.
And here's the other.  Besides the cover (which is absolutely GORGEOUS), the premise of this book is what really has me hooked.  Pirates? Yes.  Sign me up.
Well, that's all I've got for you today folks.  Find something you want to read? Have any recommendations for reads, or re-reads? Thanks for joining me, and until next time, I am the Baumeister, and I have been, obediently yours.