Hello everyone, and welcome back to another edition of "Oooh, I Want to Read This".  I think I need to start buying more books.  I'm running out of books on my shelf that I haven't read yet to feature here.  That, or I need to start reading faster so I can borrow more books from coworkers.  Anyway, this week's picks should be interesting, and I'm excited to share them with you.
Remember, synopsis come from goodreads.com, and click on the covers to go their respective goodreads page.
Sometimes the past is better off buried.

Senior year is finally over. After all they've been through, Dan, Abby, and Jordan are excited to take one last road trip together, and they're just not going to think about what will happen when the summer ends. But on their way to visit Jordan's uncle in New Orleans, the three friends notice that a black muscle car appears to be following them. And Dan starts receiving phone messages from someone he didn't expect to hear from again—someone who died last Halloween.

As the strange occurrences escalate, Dan is forced to accept that everything that has happened to him in the past year may not be a coincidence, but fate—a fate that ties Dan to a group called the Bone Artists, who have a sinister fascination with notorious killers of the past. Now, Dan's only hope is that he will make it out of his senior trip alive.

In this third book in the New York Times bestselling Asylum series, found photographs help tell the story of three teens who exist on the line between past and present, genius and insanity.
I'm a bad series reader, I know.  But, I'm better than a certain person I know who, last I remember, had about 30 series she started, but never finished. Anyway, I love this series! They are quick reads, but still very much enjoyable.  I'm really looking forward to diving into the final chapter…then picking up the other available titles in this series.
Eff was born a thirteenth child. Her twin brother, Lan, is the seventh son of a seventh son. This means he's supposed to possess amazing talent — and she's supposed to bring only bad things to her family and her town. Undeterred, her family moves to the frontier, where her father will be a professor of magic at a school perilously close to the magical divide that separates settlers from the beasts of the wild.
Color me intrigued folks.  I'm really looking forward to seeing how magic is used in this world, as well as the interesting dynamic between the supposed "curse" and the "hero" (if that's the proper term to use in this case).  Will it balance out like yin and yang in the end? Or will it be one of those "one must live" type scenarios.  Will the script get flipped? I kinda wanna know!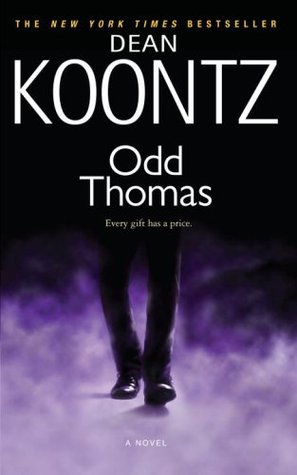 "The dead don't talk. I don't know why." But they do try to communicate, with a short-order cook in a small desert town serving as their reluctant confidant. Odd Thomas thinks of himself as an ordinary guy, if possessed of a certain measure of talent at the Pico Mundo Grill and rapturously in love with the most beautiful girl in the world, Stormy Llewellyn.

Maybe he has a gift, maybe it's a curse, Odd has never been sure, but he tries to do his best by the silent souls who seek him out. Sometimes they want justice, and Odd's otherworldly tips to Pico Mundo's sympathetic police chief, Wyatt Porter, can solve a crime. Occasionally they can prevent one. But this time it's different.

A mysterious man comes to town with a voracious appetite, a filing cabinet stuffed with information on the world's worst killers, and a pack of hyena-like shades following him wherever he goes. Who the man is and what he wants, not even Odd's deceased informants can tell him. His most ominous clue is a page ripped from a day-by-day calendar for August 15.

Today is August 14.

In less than twenty-four hours, Pico Mundo will awaken to a day of catastrophe. As evil coils under the searing desert sun, Odd travels through the shifting prisms of his world, struggling to avert a looming cataclysm with the aid of his soul mate and an unlikely community of allies that includes the King of Rock 'n' Roll. His account of two shattering days when past and present, fate and destiny converge is the stuff of our worst nightmares, and a testament by which to live: sanely if not safely, with courage, humor, and a full heart that even in the darkness must persevere.
Last, but certainly not least by any stretch, is the only non-YA book on this list today…strange.  But certainly not Odd.  As in Mr. Odd Thomas.  I first read this book in college, and I simply adore Odd.  I felt for him at the end of the book, and I was enjoyed to know that the series continued on.  And what better way to read the whole series than by starting over with the first book.
Well, there we have it folks. Any books strike your fancy today? Got any recommendations for me? Let me know! Until next time, I am the Baumeister, and I have been, obediently yours.