Hello everyone, and welcome to another Top 10 Roundup! Are you ready for some CHRISTMAS MUSIC!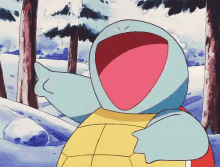 Now, there's no need for you to throw snow at me.  I know there are a lot of you that don't like Christmas music out there.  And that's ok.  I was talking to one of my coworkers about Christmas music just the other day, and she made a very valid point about liking Christmas music.  She partially likes it because she knows the words.  Which, to be fair, it's the same amount of songs, done over and over again by different artists. For example, at work, I'm pretty sure I heard "All I Want For Christmas Is You" like 3 times in a 90 minute stretch of time.
Yes, even though I love Christmas music, hearing the SAME song over and over again is excessive, even in my ears.  But, enough ranting, let's go to 10 of my favorite Christmas songs!
I love both of these songs.  Sure, the original "12 Days of Christmas" tends to be bland and dull after a while, but these two songs give a fun take, and make me smile.  Especially Frank's exasperated "oy" at the very end of the song.
Shame I can't embed this one.  But, I love this rendition of O Tannenbaum.  Not only is it done by one of the legendary crooners, but it's also in German.  And this song…it sounds MUCH better in German. Just saying.
This won't be the first time that Pentatonix will appear on this list.  They take what are amazing songs to begin with, and make them even better.  Just…listen.
Again, I love renditions.  And since I grew up listening to 90's country, this seems like a perfect fit.  Also, how is it that I've never seen this music video? This is pretty fun.
Three different versions of the same song.  This is madness! NO…this is Christmas time!!
So…calming. No words.
I love this rendition, though, I'm a huge fan of The High Kings, so, no surprise there.  But, this is great, especially the pre and post singing bits.  Adds a nice touch to the song.
So, I love me some Celtic Woman.  Not only that, but I love this song by them. They look like they're having fun, and they've really got the crowd into it.  And the last "let it snow" by Mairead puts the icing on the cake.
Oh hey look, Celtic Woman back to back.  Didn't have an artist listed this one in my notes, so I figured I'd settle for a very pretty rendition.
>
And, a sing along!
Did you enjoy all the songs today folks? I surely had a grand old time! If this is the only blog you read this week of mine, may you have a very Merry Christmas, or Happy Holidays.  Whichever you prefer.  Until next time, I am the Baumeister, and I have been, obediently yours.