Hello everyone, and welcome back to another edition of "Oooh, I Want to Read This".  So, in between creating last week's post and this one, I happened to find my notebook with everything planned out in it.  So, today, you're gonna get a double post.  Don't worry.  Next week will be my "best of 2016" where I give you some of my favorite reads from this past year.  But, let's get right down to the big double list, shall we?
And as always, covers and synopsis pulled from Goodreads.
I Have, But Need to Read!
MAY THE VERSE BE WITH YOU!

Return once more to a galaxy far, far away with this sublime retelling of George Lucas's epic "Star Wars" in the style of the immortal Bard of Avon. The saga of a wise (Jedi) knight and an evil (Sith) lord, of a beautiful princess held captive and a young hero coming of age, "Star Wars" abounds with all the valor and villainy of Shakespeare's greatest plays. 'Tis a tale told by fretful Droids, full of faithful Wookiees and fearsome Stormtroopers, signifying… pretty much everything.

Reimagined in glorious iambic pentameter, "William Shakespeare's Star Wars" will astound and edify Rebels and Imperials alike. Zounds! This is the book you're looking for.
It's STAR WARS in the language from Shakespeare's era.  What's not to love with that?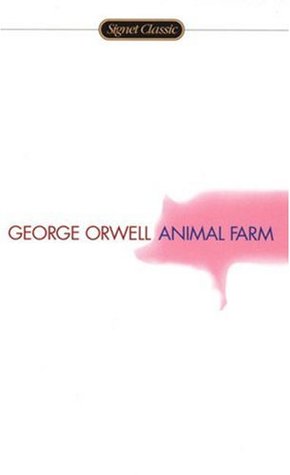 A farm is taken over by its overworked, mistreated animals. With flaming idealism and stirring slogans, they set out to create a paradise of progress, justice, and equality. Thus the stage is set for one of the most telling satiric fables ever penned –a razor-edged fairy tale for grown-ups that records the evolution from revolution against tyranny to a totalitarianism just as terrible.
When "Animal Farm" was first published, Stalinist Russia was seen as its target. Today it is devastatingly clear that wherever and whenever freedom is attacked, under whatever banner, the cutting clarity and savage comedy of George Orwell's masterpiece have a meaning and message still ferociously fresh.
I've already read one of Orwell's novels in 1984, and while the slog was long and tedious, it certainly was an eye opener for sure.  I'm ready to tackle another one of his classic pieces of work.
Need to Own!
Here is a house of ruin and rage, of death and deliverance.
Here is where I live, not living.
Here is always mine.

When Connor's family moves to Amity, a secluded house on the peaceful banks of New England's Concord River, his nights are plagued with gore-filled dreams of demons. destruction, and revenge. Dreams he kind of likes. Dreams he could make real, with Amity's help.

Ten years later, Gwen's family moves to Amity for a fresh start. Instead, she's haunted by lurid visions, disturbing voices, and questions about her own sanity. But with her history, who would ever believe her? And what could be done if they did?

Because Amity isn't just a house. She is a living force, bent on manipulating her inhabitants to her twisted will. She will use Connor and Gwen to bring about a violent end as she's done before. As she'll do again. And again. And again.

Inspired by a true-crime story, "Amity" spans generations to weave an overlapping, interconnected tale of terror, insanity. danger, and death.
What's not to love about a story about an evil house? I love horror stories, and this feels like it's going to be right up my alley.
Ever since he nearly drowned in the ocean three years earlier, ten-year-old Jack Peter Keenan has been deathly afraid to venture outdoors. Refusing to leave his home in a small coastal town in Maine, Jack Peter spends his time drawing monsters. When those drawings take on a life of their own, no one is safe from the terror they inspire. His mother, Holly, begins to hear strange sounds in the night coming from the ocean, and she seeks answers from the local Catholic priest and his Japanese housekeeper, who fill her head with stories of shipwrecks and ghosts. His father, Tim, wanders the beach, frantically searching for a strange apparition running wild in the dunes. And the boy's only friend, Nick, becomes helplessly entangled in the eerie power of the drawings. While those around Jack Peter are haunted by what they think they see, only he knows the truth behind the frightful occurrences as the outside world encroaches upon them all.

In the tradition of The Turn of the Screw, Keith Donohue's "The Boy Who Drew Monsters" is a mesmerizing tale of psychological terror and imagination run wild, a perfectly creepy read for a dark night.
I don't remember where I saw this book. But, what I do remember is an instant "need to read" orange neon sign flashed right in front of my eyes.  This is creepy sounding, and just perfect for my reading tastes.
Re-Reading in the Future!
Frodo Baggins knew the Ringwraiths were searching for him—and the Ring of Power he bore that would enable Sauron to destroy all that was good in Middle-earth. Now it was up to Frodo and his faithful servant Sam to carry the Ring to where it could be destroyed—in the very center of Sauron's dark kingdom.
It's one of the biggest and well known high fantasy series in the world.  Why wouldn't have I read it, or want to re-read it?
Hannibal Lecter. The ultimate villain of modern fiction. Read the five-million-copy bestseller that scared the world silent… A young FBI trainee. An evil genius locked away for unspeakable crimes. A plunge into the darkest chambers of a psychopath's mind– in the deadly search for a serial killer… Thomas Harris is the author of Hannibal , Red Dragon , and Black Sunday . As part of the search for a serial murderer nicknamed "Buffalo Bill," FBI trainee Clarice Starling is given an assignment. She must visit a man confined to a high-security facility for the criminally insane and interview him.
When I went to visit my aunt and uncle after my first summer in college, my aunt took me to the library out there, and I picked up and devoured the entire series while I was out there.  I do love the whole series, even if Hannibal Rising isn't the greatest book out there.
Well, that's all I've got for you today folks.  Did you enjoy the selections? Do you have any suggestions for me to check out? Tune in next week for my 2016 in reading review.  Until next time, I am the Baumeister, and I have been, obediently yours.