Hello everyone, and welcome back once again to another Top 10 Roundup! It's the last one of 2016, so I figured I would try to lay out 10 of my resolutions for the next year.  Now, I know what you are saying. "Ten, most people can barely keep to one, let alone ten!" Now yes, this is true.  And I'm not saying that I'm going to stick to any of them.  But, what I can tell you is that these are ten things that I would at least like to improve upon in 2017.  So, let's dive right on into it.
I'm horrible about this whole reading business, and I LOVE READING!! So, I'm going to make it a point to read more, well, at least when I'm home anyway.  I've got so many books I want to read, I might as well get cracking on them!
There's also a whole bunch of TV shows and movies that I need to start watching or get caught up on.  Remember all of my Top 10 Roundup lists I've been making about this topic? Well, I hope to make at least a little dent in those in the coming year.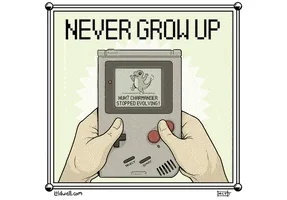 There's so many games out there that I'm just ready to play them.  Gotta make some time to do that as well.
Of course, what wouldn't be complete without going outside and getting some human interaction, outside of work of course.  I've never been the most sociable person on the planet, and all I really want to do is forge some new friendships along the way.
Now, I'm not necessarily obese by any means, but I've got a rotund stomach that I'm rather self-conscious of.  I would love to get rid of it, but I need to get myself motivated to do so…and to clean off the exercise bike and stop making it my laundry holder.
Yeah, I don't really have a whole lot of that.  I'm just not that kind of a person. I suck at the whole "self-worth" nonsense, and I constantly blame myself for driving my marriage into the ground (though, I do take full responsibility for first post-divorce months and making the wedge larger). So, I need to work on that.  Somehow…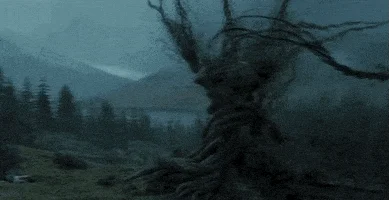 Ok. So maybe not like the Whomping Willow kind of branching out, but you get my point.  I want to try and expand my horizons a bit.  Just how I'm going to do that yet, I don't really know.
Whether it be food, new places, experiences, books, movies, etc…I just need to break out of the box that I've stuffed myself in and start growing.  I love to learn, why not expand outside of my comfort zone?
Maybe not necessarily like Bob, who looks like he's about ready to ride the rails.  BUT, I love to travel.  Going with the previous point above, I love going out and exploring new places.  I really hope that I get that sort of chance in 2017.  Sure, with my work schedule never staying the same (sometimes even as it is posted), but I want to go new places and see new things.
2016 was just not my year for being happy.  There was one point where I was drawing deeper and deeper into the overbearing and soul-swallowing darkness.  But, as I sit here and type this now, I feel a smile crawling across my face, because I know that somehow, somewhere, happiness is looking.  To quote my Bray Wyatt t-shirt, "follow the light, it will lead you back home."  And I feel that "home" is the happiness that I've lost along the way this past year.
Well, that's all I've got for you this week. May you all have a safe, yet enjoyable New Year's celebration, and I shall expect to see you all back here next week, for the first 2017 installment of the Top 10 Roundup.  Until next time, I am the Baumeister, and I have been, obediently yours.