Hello everyone, and welcome back to another edition of "Viewing Wrestling".  Now, I have to say, this is probably the most research heavy series that I've done, and that's including the early editions of "So, You Think You Know Diabetes".  This is that large of a project.  But, I'm well up to the challenge (especially on a well-rested day off).
So, we're going to dive right on into part 2 of the series.  We are going to be looking at Rumble winners from 2000-2007.  Thank you to cagematch.net for compiling all the stats into one place.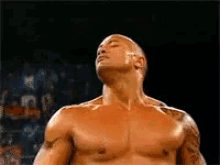 The Rock
2000 Royal Rumble Winner
RTW TV Record: 12-9-2
Wrestlemania result: Lost in Championship Match (Last pinned in Fatal 4-Way)
Oh. The poor Rock.  He's the first man on this list to have more than 7 televised matches, thanks to the addition of Smackdown to the televised roster.  Rock also had the "misfortune" to win and be on the road to WrestleMania 2000, in which there were no tried and true singles matches.  Don't worry though.  The Rock would go on to win the WWF Championship at Backlash a little over a month later.
Steve Austin
2001 Royal Rumble Winner
RTW TV Record: 6-2-0
WrestleMania result: Won WWF Championship vs The Rock
Austin became the first, and so far only, three time winner in Rumble history.  This lead up to one of the best WrestleMania in history, topped off with Austin turning heel and forming the Two-Man Power Trip with Triple H.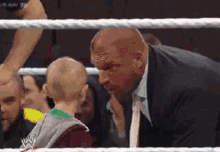 Triple H
2002 Royal Rumble Winner
RTW TV Record: 6-4-1
Wrestlemania result: Won WWF Undisputed Championship vs Chris Jericho
The last non-brand split Rumble winner for at least 8 years, Triple H had a very interesting journey to get to the Rumble.  Mainly, he was injured for the latter half of 2001, after tearing his quad trying to perform a Pedigree on an announce table.  So when he came back in 2002, it was huge.  His feud with his on-screen ex-wife made for his win at Mania X8 all that more meaningful.  He would lose the WWF Championship a short time later to Hulk Hogan, but would be crowned the World Heavyweight Champion in September after the brand split was complete.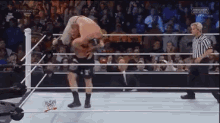 Brock Lesnar
2003 Royal Rumble Winner
RTW TV Record: 5-1-0
WrestleMania result: Won WWE Championship vs Kurt Angle
Holy cow man.  If there is anyone that had a more dominant "rookie" year in the WWE, it's this man.  Debuting after Mania X8, Lesnar went on a tear, winning the King of the Ring in 2002, and won the WWE Championship at SummerSlam 2002, only to lose the title at Survivor Series 2002.  Lesnar had to wrestle the first match of the Rumble card in order to enter the Royal Rumble.  Lesnar would enter at #29, and eliminate his rival from the previous fall, The Undertaker.  Lesnar would win the title from Kurt Angle at XIX, only to lose it at Vengeance 2003 to Kurt Angle in a Triple Threat match also involving The Big Show.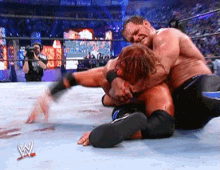 Chris Benoit
2004 Royal Rumble Winner
RTW TV Record: 4-2-0
WrestleMania result: Won World Heavyweight Championship vs Triple H and Shawn Michaels
Oh.  The blight on WWE's memory.  Ignoring the man's "future", we're looking at his accomplishments for the 2004 Rumble to Mania XX.  Well, Benoit was the first Superstar to swap over brands because of their Rumble win. Benoit's feat is significant because he was the second Superstar to win the Rumble match from the #1 position, and would be have the second-longest time in the Rumble match, at 61 minutes and 31 seconds, only surpassed by a later winner.  Benoit would win the World Heavyweight Championship at Mania XX, and would hold on to the title until SummerSlam, where he would lose the title to the only member of Evolution that he didn't beat on the RTW, Randy Orton.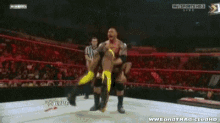 Batista
2005 Royal Rumble Winner
RTW Record:
WrestleMania result: Won World Heavyweight Championship vs Triple H
Mired in controversy, as both Batista and John Cena went over the top rope at the same time.  However, according to reports, unlike the 1994 event, the double-elimination finish was not supposed to happen.  However, this didn't derail either man from their tracks.  Both men would win their respective brand championships at Mania, after Batista decided to go after the World Heavyweight Championship vs Triple H.  In fact, Batista would be forced to drop the title after getting injured in a match vs Mark Henry in January.  In fact, this title reign would be the longest in the championship's history, passing Triple H's 280 day reign by 2 days before having to relinquish the title.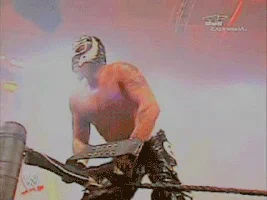 Rey Mysterio
2006 Royal Rumble Winner
RTW TV Record: 4-5-0
WrestleMania result: Won World Heavyweight Championship vs Kurt Angle and Randy Orton
The first Rumble winner to sport a losing record on the RTW, Mysterio's win is mired in a lot of poor choices on WWE's part, and which can mainly be blamed on exploiting Eddie Guerrero's untimely and unfortunate passing in November of 2005.  Mysterio entered the Rumble at #2, and was the longest lasting competitor in any Rumble at 62 minutes, and 12 seconds.  Mysterio would originally lose his opportunity at No Way Out to Randy Orton, but thanks to Theodore Long, he was re-added to the match.  Mysterio would win the title, and hold onto the title until The Great American Bash 2006 and later feud with Chavo Guerrero Jr, and losing an "I Quit Match" which was a way to write Mysterio out while he underwent knee surgery.
The Undertaker
2007 Royal Rumble Winner
RTW TV Record: 7-1-0
WrestleMania result: Won World Heavyweight Championship vs Batista
Last man on our list today is the Phenom.  One of the very few accomplishments at the time that this legendary competitor hadn't accomplished, the Undertaker went in at #30 and won the Rumble.  During this time, he spent a lot of time going back and forth on RAW, as both champions and top challengers wrestled against one another, or together at the same time.  Taker would lose the title in May of 2007, after Edge cashed in his second Money in the Bank contract on a man who had already wrestled in a steel cage match minutes prior, and was assaulted by Mark Henry just moments before.
Well, that's all the Rumble winners for this blog entry.  Next time, we've got the final third of the winners as we are a night out of the event.  Until next time, I am the Baumeister, and I have been, obediently yours.