Fed up with her wild behavior, sixteen-year-old Lex's parents ship her off to upstate New York to live with her Uncle Mort for the summer, hoping that a few months of dirty farm work will whip her back into shape.

But Uncle Mort's true occupation is much dirtier than shoveling manure. He's a Grim Reaper. And he's going to teach Lex the family business.

She quickly assimilates into the peculiar world of Croak, a town populated by reapers who deliver souls from this life to the next. But Lex can't stop her desire for justice — or is it vengeance? — whenever she encounters a murder victim, craving to stop the attackers before they can strike again.

Will she ditch Croak and go rogue with her reaper skills?
Oh my goodness the tone of this book. It is one for the main character to have a lot of snark in her soul; it's another entirely when the narrator has a good amount of snark to them as well. (Let's be honest here. Do third-person narrators have a gender? Or are they just a mist that follows characters around like a creepy stalker?). Anyway. This book is wonderful when it comes to setting up characters, and developing them into their own unique beings. Most of all Lex (which, by the way, is a horrible name to befall a child. Lexington? Really?)

When I was first told about this book, I immediately fell in love with the premise. And I was not disappointed. Croak is fun, snarky, and full of awkwardness and anger that would make your blood boil. There's a character that I wasn't a fan of early on, and her actions only made my hate for her increase. Which is good. There are times where I don't want to have a character that I started out hating end up redeeming themselves at the end.

For those who enjoy fun reads, and want something different involving Death (as a character), then you should check this one out. Me? I'm itching to get book 2.
"Then something happened in the next two seconds, but neither Lex nor Driggs would be able to recall exactly what. All they knew was that after it was over, their eyes met once again, this time in horror.

"Why did you just kiss my ear?" Lex asked nervously.

Driggs winced. "Because you turned your head."

"I thought that tree . .  . moved."

"Oh."

Another moment of silence.

Driggs bit his lip. "Do you mind if I try again?"

She swallowed. "Okay."

Then something else happened, and this time both Lex and Driggs would remember exactly what it was."
The quote above is some of the awkwardness I was referring to in my Goodreads review.  Then…
"Momentarily forgetting how wind works, Lex tried spitting at him. This failed"
This shows just how snark comes from the NARRATOR! Seriously.  I enjoyed the narrator just as much as I enjoyed Lex and Driggs.  Can I even use narrators as a thing? Anyway.  I did feel like there were some things with this read that needed to have a little bit of an adjustment to it.  Like all we see a particular pair of characters doing when they aren't Killing/Culling is making out.  That's it.  No real life to them.
Then, there's Zara.  The character I didn't like to start the read, mainly because she was a buzz kill.  But, then I got further into the read.  And my dislike for her grew.  Once the story hit the climax, and the Killer of Grims revealed, my hate meter spiked into the "loathe entirely" zone.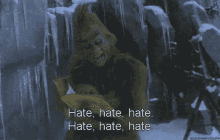 Speaking of hate…the gruesome twosome of Norwood and Heloise are very loathsome, and I'm really interested to see what will happen in the next book with the two of them.  Speaking of the second book, I can't wait to pick up a copy of this book and dive back into this world.  Hopefully I'll enjoy it as much as I did with this one.  Trust me, you won't regret picking this one up.