London, 1865.

Betrayed by his closest friend and rapidly drinking through his inheritance, Augustus Merriwether Potts returns to London in the hope of finding his fortune. Instead, he meets a mysterious stranger who thrusts him into a terrifying underworld of demons, ghosts and clockwork men. Fighting back against these new and unusual threats, Augustus and his friends come face-to-face with a creature which has been manipulating them and all humanity: a demon known as Andras, the God of Lies.

Andras has a plan: to recreate the Earth in his own hellish image using the power of the Aether, a terrifying otherworld populated by creatures from beyond humanity's worst nightmares. With the world's governments in thrall to the demons, Augustus and his friends find themselves in the front line of this battle to save the world against all the odds.
This read can be a bit confusing at times, and there are some things that make the reader pause, but all in all, this is a wonderful read. I really enjoyed the setting, and for my first time diving into a steampunkesque setting, I rather enjoyed it. I say esque, because I didn't really get that vibe while reading. It's much more subtle; giving way instead to more of the supernatural with the talk of demons and the Aether. But I have to say, I was enthralled with the read, and I do wish to pick up the second story in this series really soon. For those who are into the darker side of fantasy; with demons galavanting about in a historical time period, then you should check this out.
Ok.  Maybe the above review seems a little harsh.  I did rather enjoy this read.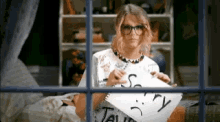 I enjoyed the setting, and I rather enjoyed getting to know the characters, even if they do have some all-to-real human flaws to them.  And their humanity is what actually prevails here in the end.  Against a forthcoming demonic threat, being human is their greatest weapon.  And yes, that does sound silly.  But it is true.
There are some things that I didn't like about this book, and that's mainly just how easy certain things rapidly become.  Like Augustus using and wielding the sword he is given.  Like, wouldn't he struggle with it more with his first non-duel fight? Or how quick that N'yotsu (a name that gives me fits over and over trying to spell correctly) accepts that he's a demon and runs away.
Now, I know that a lot of people see the steampunk in this novel, but I didn't necessarily find it.  Maybe it's because I'm not as familiar with the intricacies of what exactly makes up steampunk.  But, don't get me wrong.  It's in there.  The flying airships are a testament to that after all.  But, don't let my lack of steampunk knowledge keep you from reading this.  I did enjoy the story, and I really want to read the second book after reading the blurb.  Trust me, you'll enjoy it.