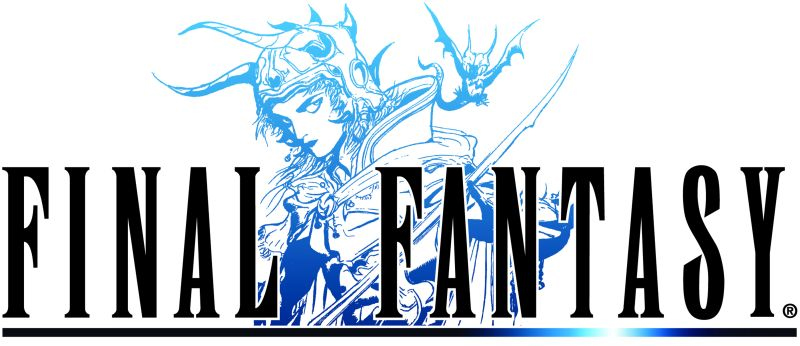 Hello everyone, and welcome back to my walkthrough of Final Fantasy I.  Where we last left off, we had geared up and were about ready to set off into the world.  Exit town through whatever exit we wish, and we can begin our journey northward to the Temple of Chaos.
Overworld to the Temple of Chaos
Alright, we are ready to move on and get into some combat! On the overworld and in dungeons, most enemy encounters come in the form of random encounters (which will become a staple off the series).  There will be occasions, mainly boss fights and other scripted encounters, where the enemy will be on the overworld map.  Speaking of random encounter, here comes one now.
Battle
Alright, so here's the battle screen.  On the right is our party, while the enemies appear on the left.  There are five options we can pick in battle. They are:
Attack: Physical damage with equipped weapon
Magic: Use equipped spells
Items: Use items like Potions, Antidotes, etc.
Equip: Change equipment as needed during battle to fit the situation
Flee: Run away. As stated before, this is based off of luck and agility stats, so the thief will have the best chance of fleeing.
For now, just choose attack.  Especially in my case, where I don't have any offensive magic.  For the most part around the castle, all one will find is the Goblin enemy.  As long as the attacks hit, most of the characters will able to wipe out the goblins in one shot.  After the battle, we will gain experience (the number on screen seems to be the amount of experience per person.  So for example, if there are five goblins who give 6 EXP each, dividing it equally among the four party members, we get 7 EXP.) and gil (if a goblin drops 6 gil per enemy, and using our example of five goblins, then we'd walk out of the battle with 30 gil.)  After the battle, we can go back to the "Collections" page, and see that we have a couple of options opened up to us: "Bestiary" and "Art Gallery".  Checking out the Bestiary, we can see that there's an entry on "Goblin".  Also, check out the "Art Gallery" section for some original artwork for the game.  Right now, all we have there is "Goblin", but you still should check it out.
Goblin
HP: 8
ATK: 4
DEF: 4
MAG. DEF: 16
Weakness: None
Resistance: None
Gil: 6
Exp: 6
Defeated: n=how many individual creatures you've defeated.
While in battle, there are three different ways one can start out the battle.  One way is going in as equals; the second way is that our party can have the advantage (pre-emptive strike), while the third is our party going last (Enemy strikes first).  Also, I do like the touch that the backgrounds of the battle change based on what tile we are standing on (grassland vs forest).  I would recommend running around Cornelia until the team has at least reached Lv 2.  That way, we can move on and take on some of the stronger enemies in the north.  Speaking of Lv. 2, here are the stat increases my team received.
Maksim:

HP +28
Strength Up
Agility Up
Endurance Up

Kumar

HP +26
Strength Up
Agility Up
Intelligence Up
Luck Up

Ans

HP +27
Strength Up
Endurance Up
Luck Up

Agata

HP +26
Strength Up
Agility Up
Intelligence Up
Luck Up
Right now, it looks like all the stats that went up did so by 1 point.  Maybe that will change as we get further along in the story with higher levels increasing stats higher.  Let's hope so anyway.  As soon as we go up the peninsula, the enemy types start to get diverse and a little stronger.  Also, as we level up, our base experience will go up, but our health won't replenish, so we will have to back to the INN.
Make sure you go back to Cornelia Town and buy the magic that we want to equip for our mages, and some healing items for when we run out of MP.  When we are ready, continue going north until we reach the Temple of Chaos and head inside.
Temple of Chaos
Man, this place sure has seen better days, hasn't it? Inside the dungeon, there are new enemies to take on, as well as some rooms to explore.  Going left directly after leaving the stairs, there's a room that contains a "Leather Cap".  Make sure to equip it to the one who can use it the most.  In this case, I gave it to Agata which boosted her Defense a whole whopping point.  Going north from here leads to a identical building, but this one has two treasure chests, one containing a "Potion" and the other containing a "Tent", which will be helpful if your HP is running low and don't want to take the time to run all the way back to town.  Grabbing these items will open up the "Item Collection" section in the "Collection" page.   Following the path east, we come across another room, with a locked door that we need the Mystic Key for.  The room to the south of this one (southeast corner) also requires the Mystic Key, which means we will have to come back to this area later.  So, we must continue forward.  Also, we should have leveled up at least one more in this area (assuming we fought all the enemies of course).
Maksim:

HP +25
Strength Up
Agility Up
Endurance Up
Luck Up

Kumar

HP +25
Strength Up
Intelligence Up
Endurance Up
Luck Up

Ans

HP +2
Agility Up
Intelligence Up
Endurance Up

Agata

HP +3
Strength Up
Agility Up
Intelligence Up
Endurance Up
Stats still went up by one, and there's a huge difference now in health between the attack classes and the magic classes.  Don't forget to go and heal whenever we can (and when we level up) to keep our HP up to full as best we can. Also, if our characters faint, we have to head back to town.  When they die, they move to the bottom of the list, so be careful and reorder as necessary.  Once we are ready, head back to the starting staircase, and head upwards to the doors.  Go through the doors, and we found a girl who is sleeping (fainted?), a bunch of bats and what appears to be our knight. Approach and hit "X" to go through some dialogue that explains the knight's motivations, and how we can't stop him.
Boss Fight: Garland

Alright, it's our first major boss fight of the game.  He hits pretty hard (doing about 12-13 points of damage to the Warrior class equipped with the best armor we can buy), and has higher defense than most of the enemies that we have fought at this point, and a rather high evasion skill (that, or my team can't hit the broadside of a barn. Either way really).  After several rounds of physical attacks, he will eventually go down, giving us a fair amount of EXP and gil.
Once the boss battle is over, we get another scene in which we talk to Sarah, and take a return trip back to the Castle for yet another scene.  The King is forever in our debt for saving his daughter, and truly believes that we are the Light Warriors and sets us upon a task: to rekindle the light of the Crystals.  As promised, he builds us a bridge (man that's fast).  If we talk to Sarah, she gives us a Lute.  That is found in our "Key Items" pocket, so it'll be important later.  Now, that we're done in Cornelia, we can move right along to the next area.  Leave, and talk to the NPCs if you wish (there's one that mentions that the Lute "can destroy the door to the source of all evil."…whatever that means.  Again, I'm sure it's important, or else it wouldn't be in the "Key Items" section.
As we leave the Castle, we get a cutscene with a bunch of the King's workers building the bridge across to the next area.  After the cutscene, leave the castle.  Stop off and finish up with any business that you wish to accomplish in town, and then head towards the bridge.  As you get on the bridge, the game will go into a cutscene.
"And so their journey began. As warriors of light, the four youths faced a staggering mission and a stormy destiny.  The four crystals they carried remained a mystery to them…In ages past, those crystals had radiated a dazzling light.  The time for heroes is at hand.  Darkness must be banished so the light of peace can illuminate the world once more."
Well, there's our official game open.  We must have completed the introduction then.  Well, good for us.  Onward we go!
And that's where we're going to stop for this section.  Thank you so much for reading.  Coming up next time, we'll start in brand new territory; ready for our next adventure.  New enemies, new items, and a whole lot more questing will be on our docket.  Until next time, I am the Baumeister, and I have been, obediently yours.